VPN is a private network between you and any other website or a computer. The data shared through the network can only be accessed by you and the website. It is a virtual network which protects you from restrictions, censorships, hackers etc. It basically hides your actual IP address. While using VPN, you are present on the internet with a completely different IP address. Your Internet Service Provider cannot access the information shared between you and the website you are visiting. VPN allows you to access blocked websites, bypass region-based website restrictions, and most important, makes you anonymous.
So here are 7 best free VPNs which won't cost you a single dime.
1. Windscribe
Windscribe is the best VPN provider you could ever use. It has 11 VPN servers throughout Europe and USA. Along with free VPN servers, Windscribe also has an ad-blocker browser extension which blocks incoming ads. Windscribe has an inbuilt firewall and it provides you 10GB of monthly data allowance if you sign-up using E-mail. Windscribe can be downloaded on Windows, MacOS, Linux and the ad-blocker extension supports Google Chrome, Firefox and Opera browsers. The only downside is the interface which needs some improvements, otherwise its worth a try.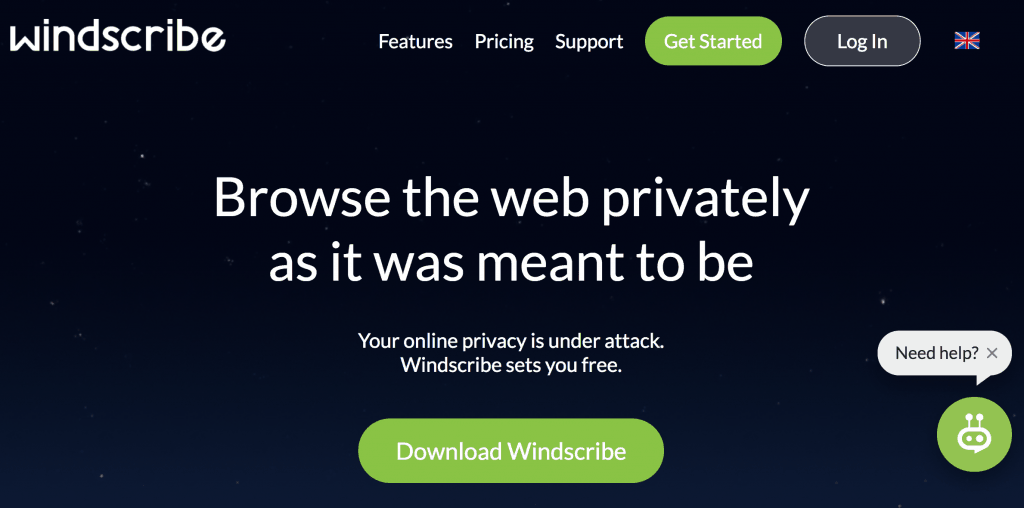 2. Hotspot Shield
Compared to Windscribe, Hotspot Shield provides more data per month i.e 15 GB (500MB per day). It has an attractive user interface presenting exactly what is needed. Talking about speed and connectivity Hotspot shield falls just behind Windscribe. The downside here is too many ads within the application and it provides only US-based VPN servers.
3. Speedify
Speedify provides only 5GB of monthly data allowance. But it makes up for it in terms of speed. Yes, it is super-fast. One interesting thing about Speedify is the ability to merge two or more connections to boost internet speeds. Speedify merges two connections with the help of its software and then it gets even more faster. Unfortunately, you cannot manually select a server as it is automatically selected by the software itself. Also, it is the US-based just like Hotspot Shield.
4. AVIRA Phantom
AVIRA Phantom provides very low data allowance of 1 GB. Although, it is fast. Guest users get only 500MB of data unless they sign-up. Avira can be used in on-the-go situations like checking E-mail at the Airport. Avira has 82 Servers spread across 24 countries. It can be used with an unlimited number of devices, but this luxury isn't much use as data cap is low.
5. Tunnel Bear
Tunnel Bear is the most secure one in this list which implements AES 256-Bit Encryption and gets rid of data logging. This feature adds security and privacy while using Tunnel Bear VPN. Servers are present in more than 22 countries with faster speeds. But the catch here is the 500MB data allowance. Moreover, you cannot use this with Netflix, streaming sites and torrent sites.
6. Hide.me
Hide.me provides 2GB of monthly data access via its free account. Its servers are in 5 countries. Hide.me doesn't have Netflix support, although torrent websites are accessible. Backed by a no logging policy, strong encryption, and multiple protocols for safety, hide.me can be a decent choice.
7. OpenVPN
The only truly free OpenVPN with no bandwidth ads or anything. It survives on community-based and has to be manually adjusted but it is by far the best and fastest free VPN out there in the market. Do try it..!!
Know any other VPNs? Any thoughts on this article? Do let us know in the comments section.
You might also like: How to be anonymous with Tor..!